Television actress Hina Khan is currently shooting for her first Punjabi Film titled 'Shinda Shinda No Papa' starring Gippy Grewal in the lead role. Lately, she suffered a leg injury during the shoot and shared the news through her Instagram handle.
Hina Khan Leg Injured At Shoot:
Now, Hina Khan has shared a new video on her Instagram as she reached home and reunited with her mother. We can see her mother's priceless reaction upon watching Hina in home. Hina's foot is seen wrapped in a crepe bandage. After seeing Hina, her mother became emotional and Hina assured her that the injury is minor and she is doing well.
View this post on Instagram
Hina captioned the video "🧿 So my mom sleeps very early.. didn't tell her m coming, came around 11:30 and sneaked in the house quietly at night.. she had no idea m in the house.. surprised her in the morning, look at her priceless reaction..meri Bholi maa❤️ she went to the door first 😂 Don't bother about my foot..its ok 🧿🙈 #smalljoys #pricelessmoments #mom #momanddaughter #surprises #reelsinstagram #reelitfeelit #trendingreels #ReelsWithHK".
Fans wished her speedy recovery and expressed their love through comments.
Hina has shared a couple of pictures on her Instagram stories. She shared a picture of her injured leg and wrote "Meri Kismat" and another picture of herself with mother. She wrote "Mom missed you so much".
Even though she has a injured foot, Hina continued to work as we can see in another Instagram stories. She also wrote "No matter hat life throws at you….SMILE.. I ain't giving up".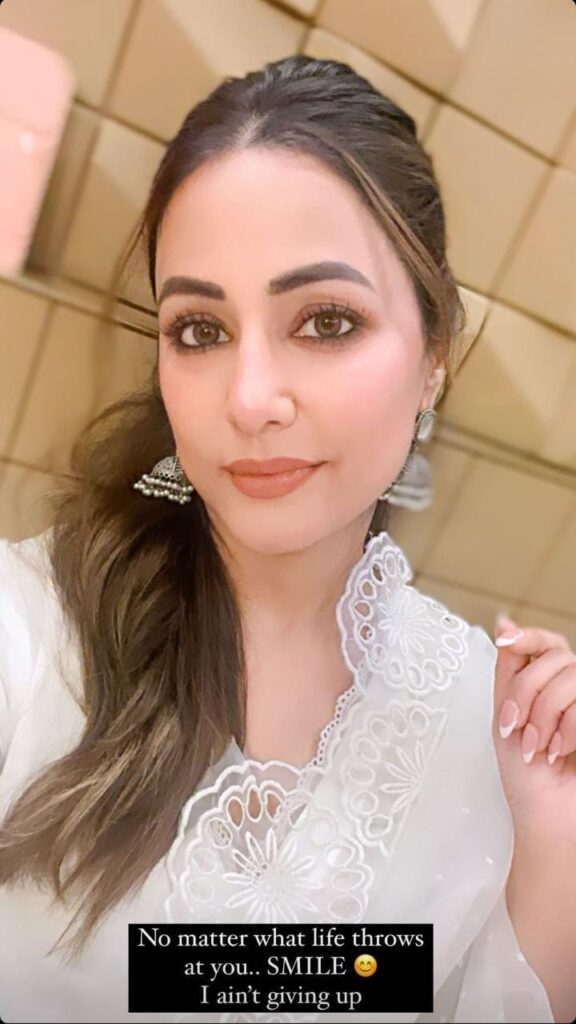 On the work front, Hina Khan last worked in a TV show Shadyantra and did a music album Barsaat Aa Gayi. She will be next appearing in Punjabi movie 'Shinda Shinda No Papa' and  'Country of Blind', a Hindi–English bilingual film.