R Madhavan's son Vedaant Madhavan has won 5 gold medals at the Malaysian Invitational Age Group Swimming Championships 2023 in Kuala Lumpur. The actor penned an emotional note for his son by taking to social media.
Vedaant Madhavan wins 5 gold medals for India:
Madhavan sharing the pictures of his son with his medals wrote "With Gods grace and all your good wishes Vedaant gets 5 golds for India ( 50m, 100m, 200m, 400m and 1500m) with 2 PB's at the Malaysian invitational age group championships, 2023 held this weekend in Kuala Lumpur. Elated and very grateful. 🙏🙏🇮🇳🇮🇳🇮🇳❤️❤️❤️Thank you #Pradeep sir @media.iccsai @ansadxb ❤️❤️🇮🇳🇮🇳". We can also see Vedaant's mother Sarita Birje in one of the pictures.
View this post on Instagram
From AR Rahman, Abhishek Bachchan, Anushka Sharma, and Juhi Chawla, to Suriya, Keerthy Suresh, and Khushbu Sundar, many celebs from different industries have congratulated Vedaant.
Ohhh 🙏🙏🙏❤️❤️❤️Thank you so very much sir. Coming from you this means a world of encouragement to all of us especially Vedaant. Very touched Rahman sir . Gods grace 🙏🙏🙏❤️❤️❤️🇮🇳🇮🇳🤗🤗 https://t.co/7dBPqMc22p

— Ranganathan Madhavan (@ActorMadhavan) April 17, 2023
Dear maddy.. this is my long due appreciation for u.. u r a great actor, a wonderful father and an awesome person. It's a rare combination. U inspire me in every sense. Gob bless Vedanth.. the golden boy. Keep ur positive energy goin 👍🏼😊 https://t.co/dwwUXQAlEq

— Arunmozhi Varman (@actor_jayamravi) April 17, 2023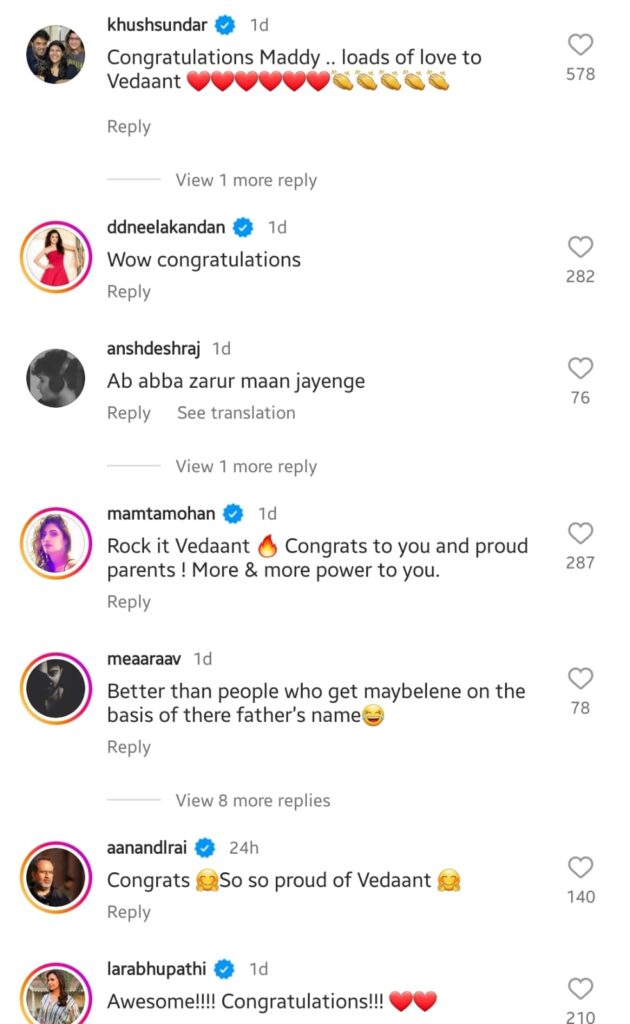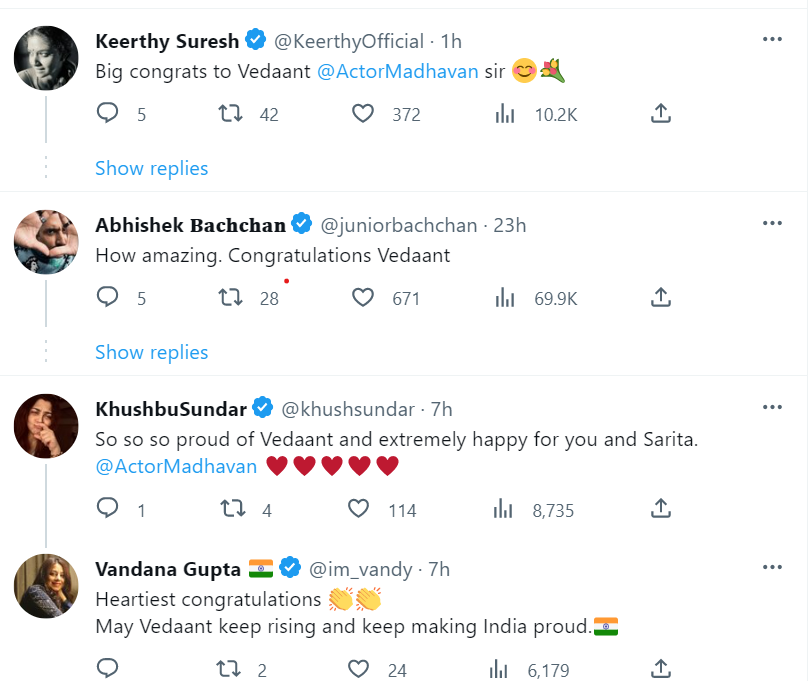 Madhavan is a proud father today. Many other celebs and fans congratulated the actor and his son for winning gold medal in swimming and making the nation proud.