We all know that Singers Kaala Bhairava and Rahul Sipligunj performed 'Naatu Naatu' from RRR on Oscar's stage which received a standing ovation from the crowd. The song Naatu Naatu won the best original song at the Oscars 2023 composed by MM Keeravani and lyrics written by Chandrabose. After a few days after winning the historic Oscar, Singer Kaala Bhairava expressed his gratitude to those who supported him in his success.
Kaala Bhairava Expresses Gratitude Through A Tweet:
On Thursday, Kaala Bhairava took to his Twitter handle to share a long heartfelt note. He wrote "I feel extremely grateful for having had the invaluable opportunity of representing team RRR and performing at the Oscars for the best original song category. On that note, I want to share with you that it's only because of a few people who directly or indirectly, but 'completely' are the reason for me getting this priceless opportunity which I personally feel is far beyond how much I actually deserve! @ssrajamouli Baba, Naanna, @Premrakshith_choreographer Master, @sskarthikeya Anna, Amma and Peddhamma.
It's because of their hard work and workmanship that the song has reached all parts of the world and is making people dance globally and that's how I got this chance. Also, regarding the glorious run in the USA -Dylan, Josh and the whole team with their persistent efforts and dedication, made this possible.
I can and never will forget the fact that I wouldn't have had a chance to have this beautiful experience if not for them. I'm just lucky for being given a share of credit in this because in reality, the merit is 100% theirs.
Blessed to be even the tiniest part of Team RRR! ❤️❤️❤️".
Something I wanted to share with you all.. pic.twitter.com/j8kT3bhlfX

— Kaala Bhairava (@kaalabhairava7) March 16, 2023
However, the singer didn't mention the names of the lead actors Ram Charan, Jr. NTR and lyricist Chandrabose which left many in shock. Many Twitter users and fans of both actors have taken to the comment section to question the singer. A Twitter user wrote 'So basically NTR and Charan didn't add any value according to you?'.
A Picture Of Kaala Bhairava from his performance at Oscar.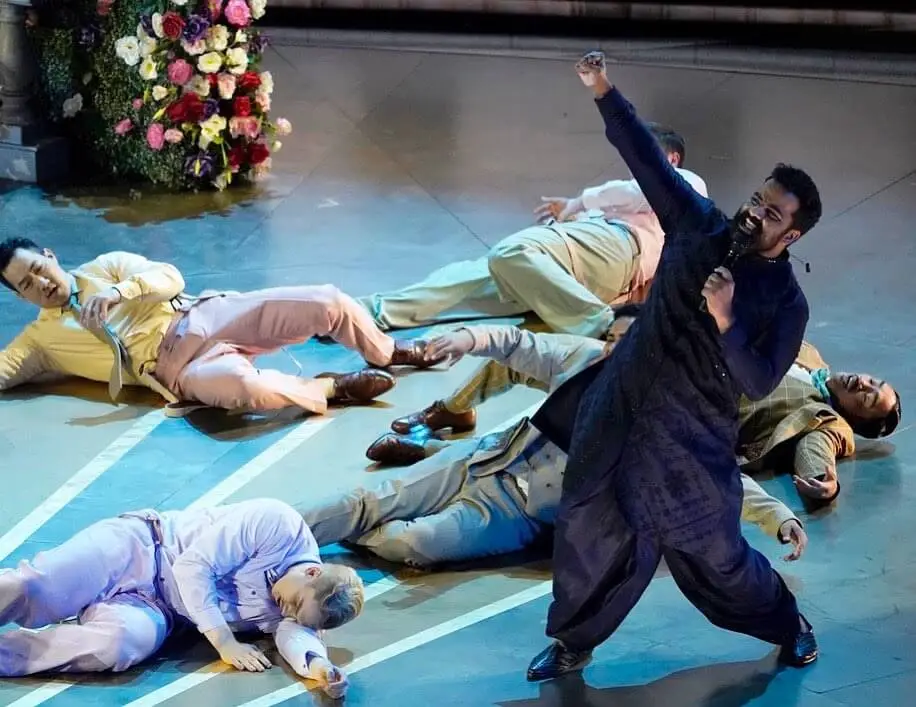 Kaala Bhairava Gives A Clarification For His Tweet:
After receiving backlash from quite a few people, the singer made another tweet and wrote 'I have no doubt Tarak anna and Charan anna are the reason for the success of Naatu Naatu and RRR itself. I was ONLY talking about who all helped me get my opportunity for the academy stage performance. Nothing else. I can see that it was conveyed wrongly and for that, I sincerely apologize for my choice of words'.

Meanwhile, the RRR team SS Rajamouli, MM Keeravani, Kaala Bhairava, and SS Karthikeya have reached Hyderabad and received a warm welcome from the fans.
'Naatu Naatu' song from RRR has received best original song at Oscar on March 13th. RRR is directed by SS Rajamouli, Music composed by MM Keeravani, and produced by D. V. V. Danayya. It stars Ram Charan and Jr. NTR in the lead roles while Alia Bhatt and Olivia Morris are paired alongside these actors respectively. The movie has become a biggest blockbuster in the history of Indian Cinema and still manages to continue its run in Japan theatres even after close to a year from its release date.